UX & DESIGN CSPORTS.SE
Redesign of CMOREs sport portal csports.se. It was both a branding, UI, UX & design job, from something old, outdated to something that focuses on what most sports fans like, the sport and enabling you to watch it as fast and smooth as possible. We managed to get a simple design to breathe speed and sports with a really simple touch.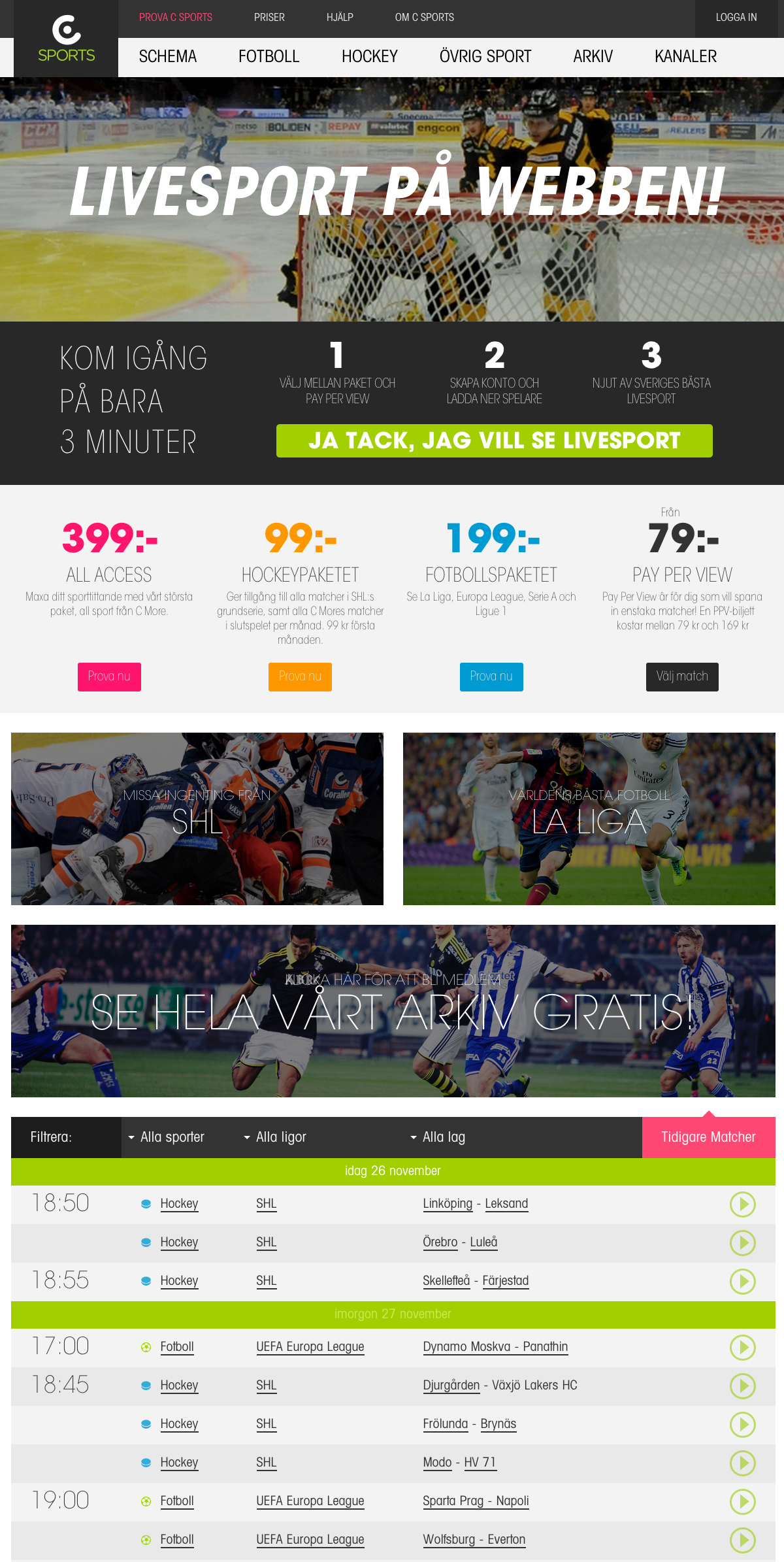 BRAND-MARIAMARIA

The Rosenberg project grew kinda fast in 2014 and needed an overhaul. A businesspartner stepped in with the same name as my mother, Maria. So the brand MariaMaria was born. Now available at a lot of restaurants and soon in a store near you.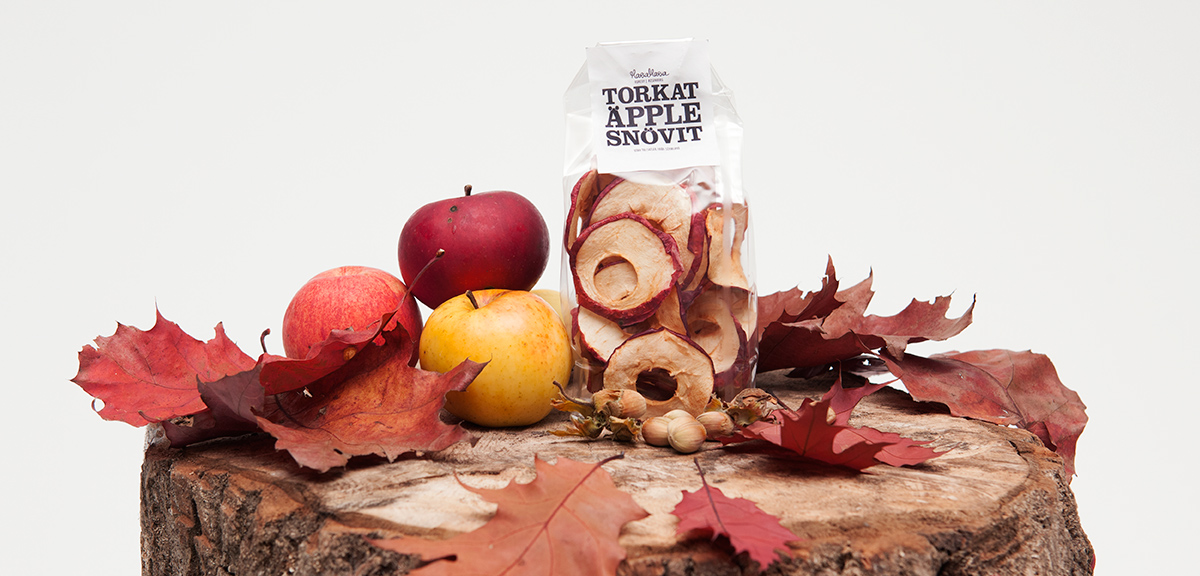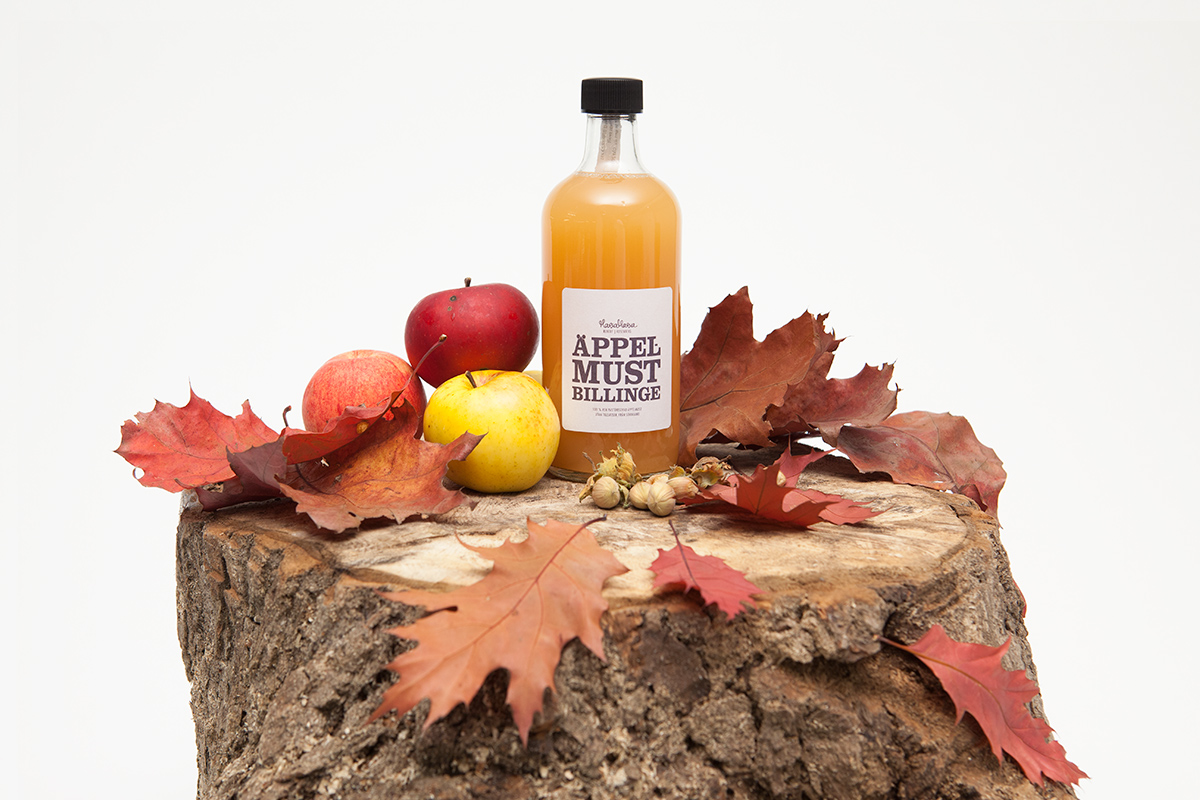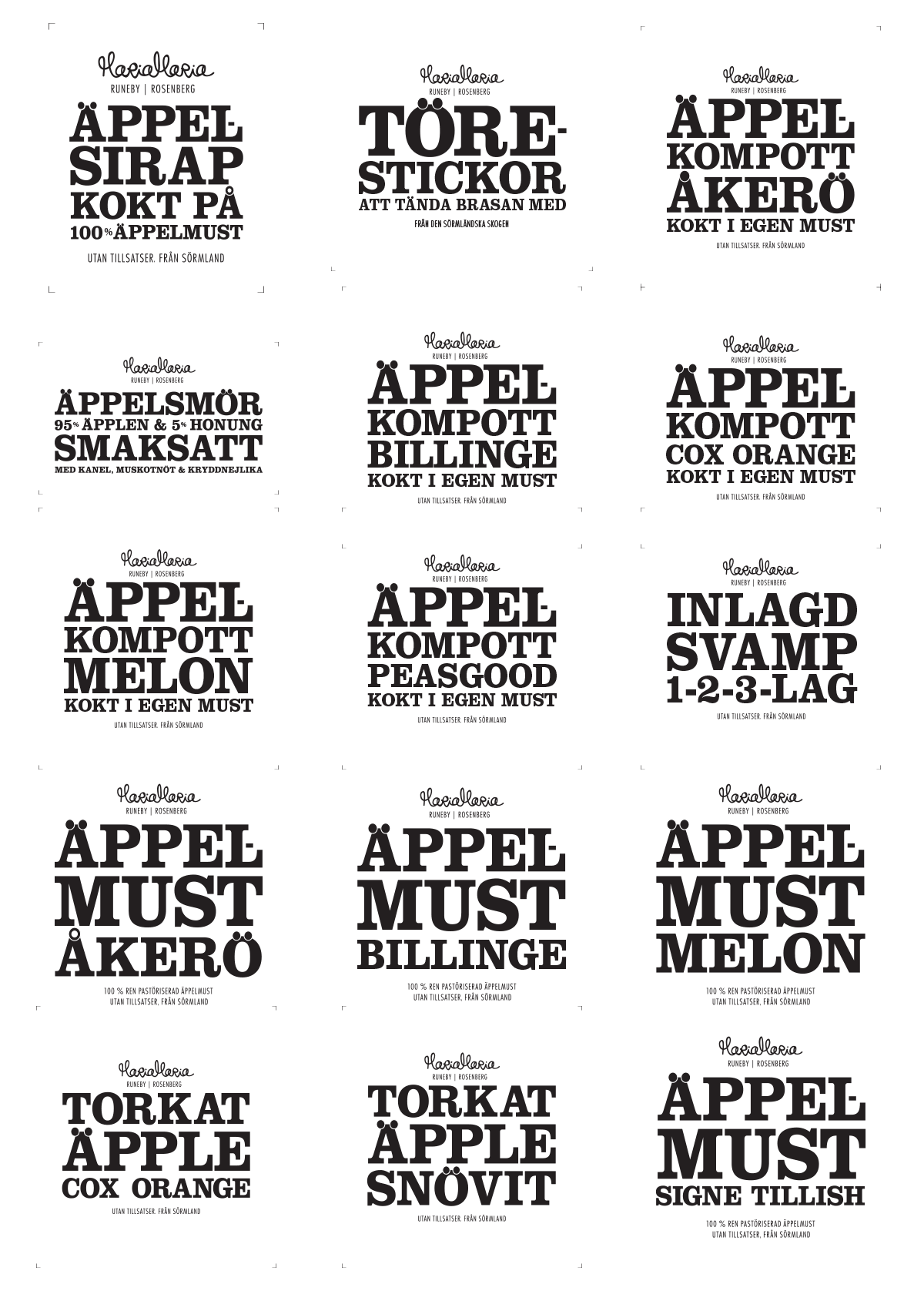 BRAND-BLOSSOM TAINTON

I was asked to help Blossom Tainton relaunch her brand in the summer of 2013. The task was to try and interpret her as a person and help her channel what she stands for in a simplistic way. To make a long story short everything fell in to place with a sofa. A patch-shiny-tiger-striped-goldy sofa, that managed to mix the spirituality of the Far East with the raw power of Africa.

That is exactly what I have tried to replicate, the mix of africa and asia. The logotype is a mix of Blossoms signature, Japanese caligraphy and Hindi. Drawn a couple of hundred times to give it the effortless touch it needed.The main theme of the identity then rests on four different but very similar graphic patterns, replicated in various forms across the identity. A great project to have worked on.

BRAND-ROSENBERG

My beloved mother delivers mushrooms, apples, all kinds of vegetables to some of Stockholms finest and best food-magicians, Ekestedt, Sjögräs & Vinjas to name a few. We wanted to create something that reflects the core of what her products are. Primärproduktion in essence is food that has not been processed at all, you pick a mushroom and that is your product. It is kind of beyond KRAV and eco-friendly, it is ingredients in their most pure form.

One of the most important aspects of the brand is that it has to be extremely flexible, new products can be born over night so the packaging is so simple it can be born over night too. And further on, can be printed from the cheapest home printer on a nature-paper available in almost every city in Sweden, big or small.

I gave my mother a piece of paper and asked her to write the name of her house, Rosenberg. My plan was to use the first attempt as the logo. I did not want any thoughts about making it look good taint it, like the product, it is in a pure form. This is a very small project, but one I am very proud of, it is one of the most genuine things I have ever made. Below is the final package design and at the bottom the first prototypes with the actual products.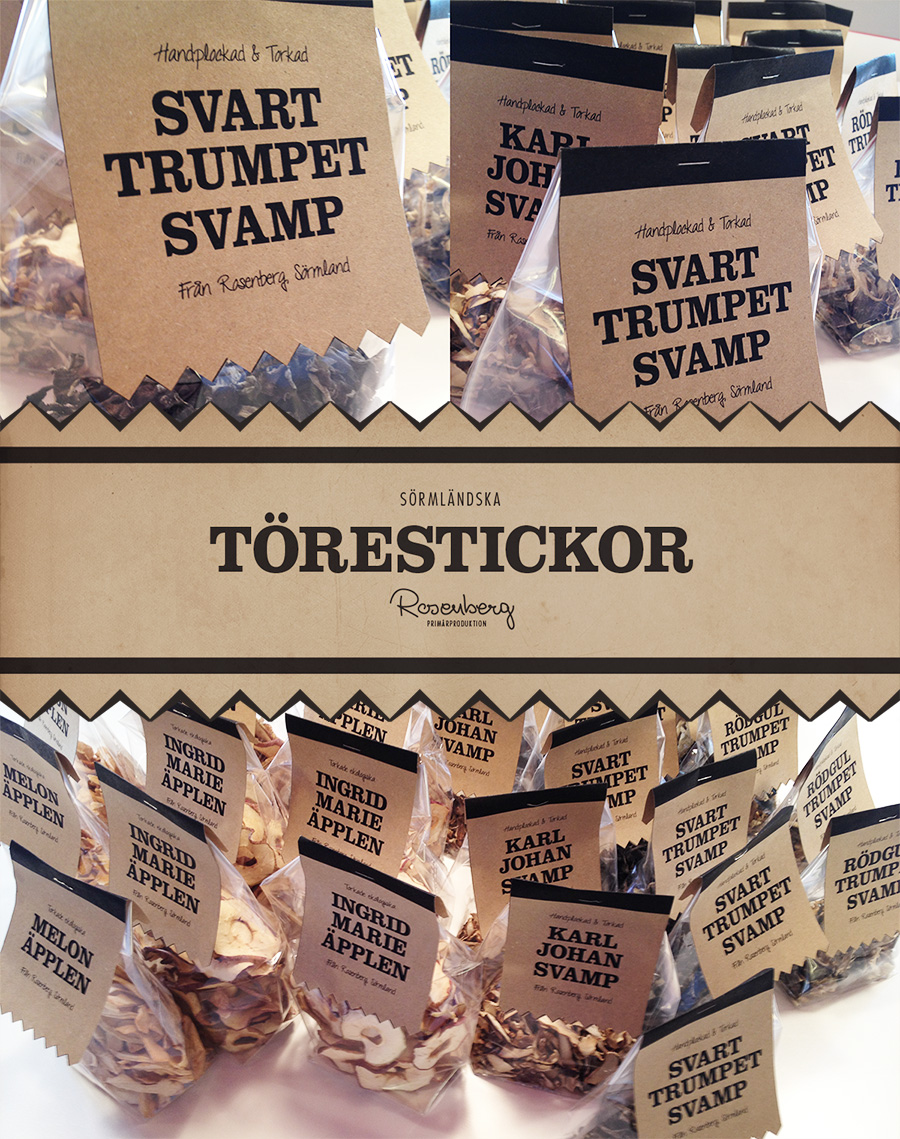 BRAND-PORTABLY
I started working at a mobile agency without a name in december of 2012. An agency that wanted to do more than apps and short campaigns, work long term with functionality and actual products, we decided on the name Portably.

From the momenent I started developing the brand I knew I wanted functionality to be the center of everything. The identity is very much inspired by the Swiss Style and Otl Aicher. Based on spacing by color and Univers I have tried to keep the principles of functionality and adapt them to the responsive way of today. Using big bold color plates have proven useful for the mobile platform we mainly operate on.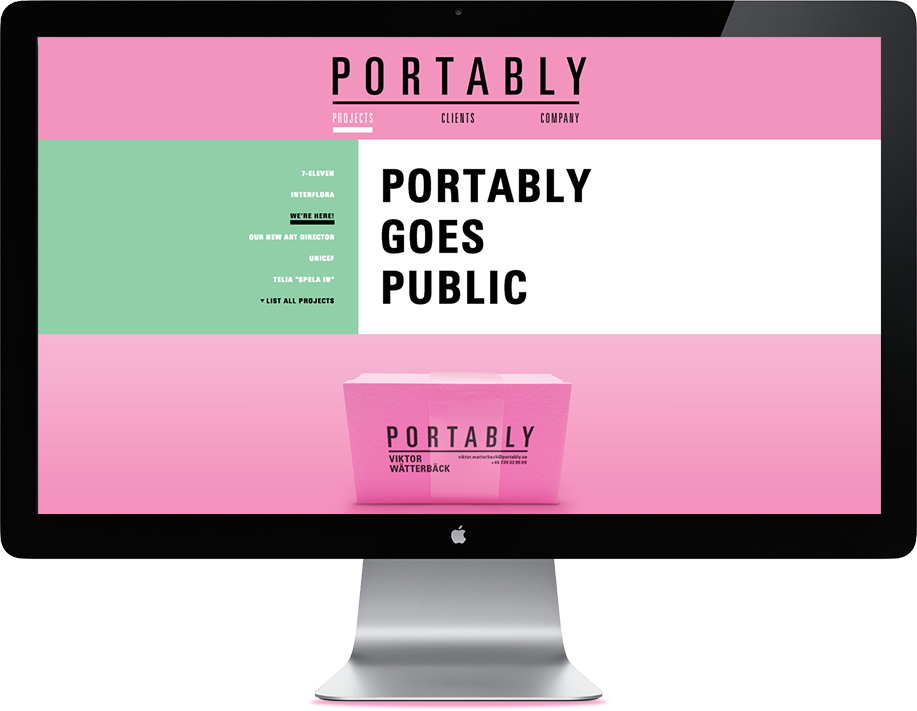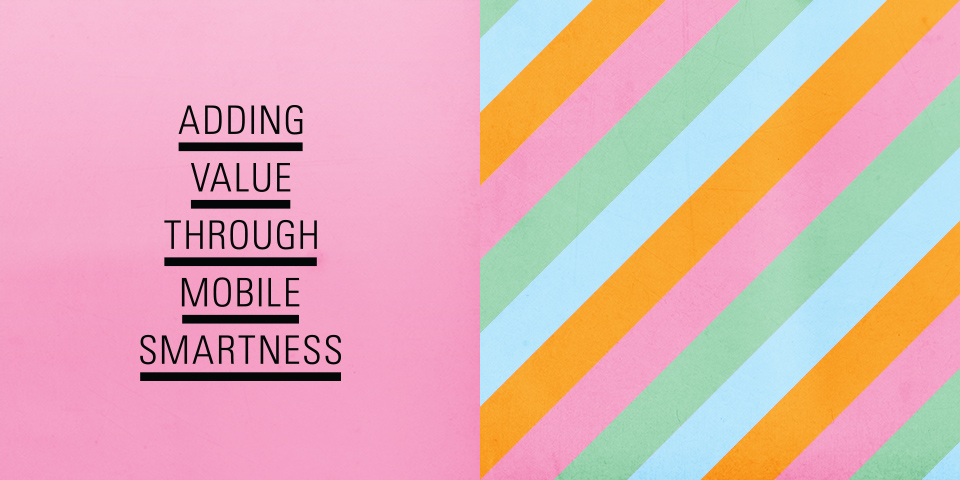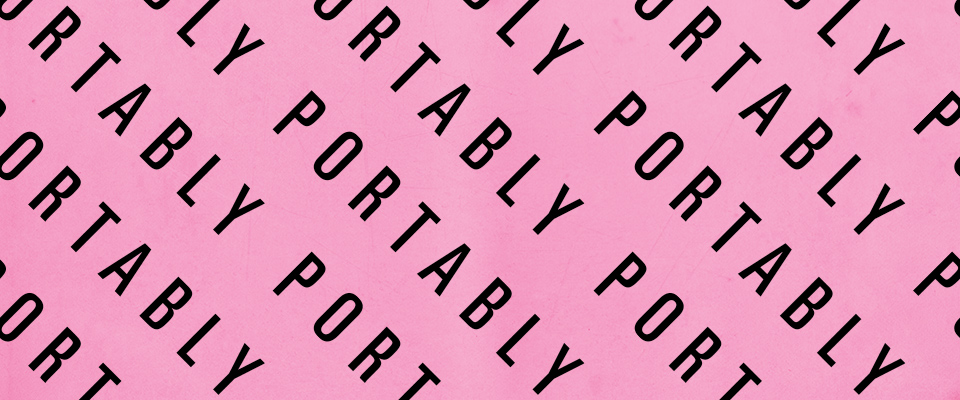 KINGDOM of JEWELS
Kingdom of Jewels incorporates brand strategy, social media and international activation. The campaign focuses on 15 cities, from São Paulo to Shanghai, and also includes a global contest. To reflect the eclectic, baroque nature of the collection, consumers are invited to enjoy being treated like 'Royalty for a Month' via a range of real-world and digital experiences in relevant areas: fashion, culture, music and nightlife.

A really big project involving so many aspects it's hard to fit them in a small space like this. Things you can experience after the campaign ended are the stellar looking promo video we produced and filmed almost entirely close and in the Perfect Fools office, mighty proud of that. The site ended up looking pretty damn stellar too if you ask me.

KAUKO DESIGN CAFÉ
When the City of Helsinki was elected 'World Design Capital' for 2012, they invited hasan & partners and Perfect Fools to help attract attention to Helsinki as a design center by spreading the word about the importance of design.

Design is all around us. It defines the chair you sit on, the lighting in your room and the height of your screen relative to your eyes. To enable the public to explore the relationship between good and bad design, how about letting them control these design aspects, to find out what works and what doesn't? This idea came to life, literally, with the interactive popup café Kauko, built by GP UdstillningsDesign. A seemingly normal café serving normal coffee, but with an important twist: its furniture, service and atmosphere can be remotely controlled via a website or mobile interface in real time. (Kauko is Finnish for "remote control".) Kauko initially launched at Helsinki's biggest mall Forum.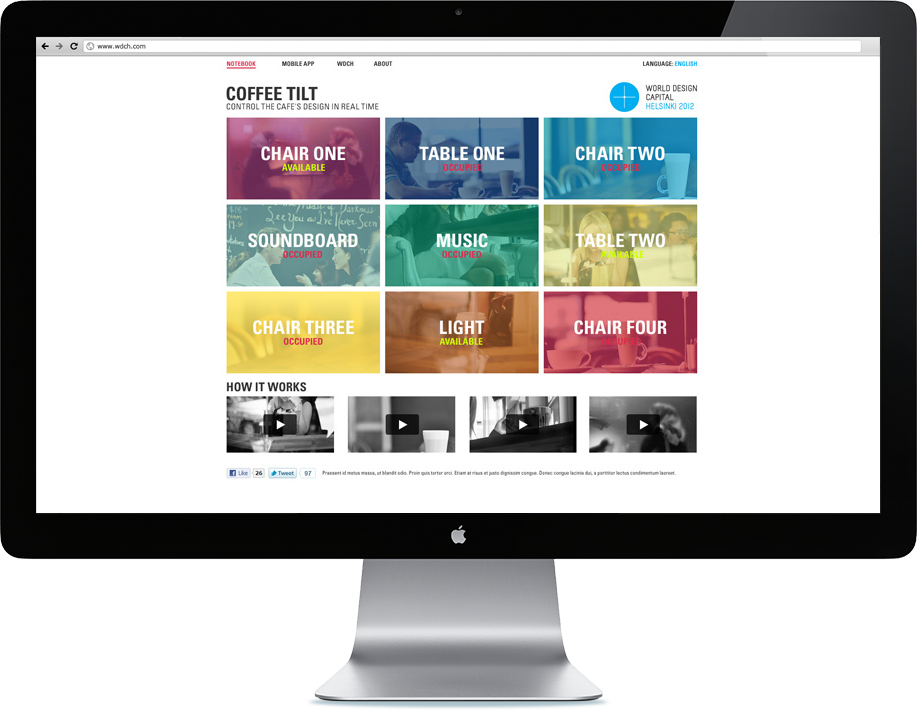 ILLUSTRATIONS
I like to draw silly stuff, mainly characters that are somewhat cute but with a touch of evil. Sometimes they become printed and put in a frame and sometimes they are drawn on paper. If you get one in a fram it means I like you.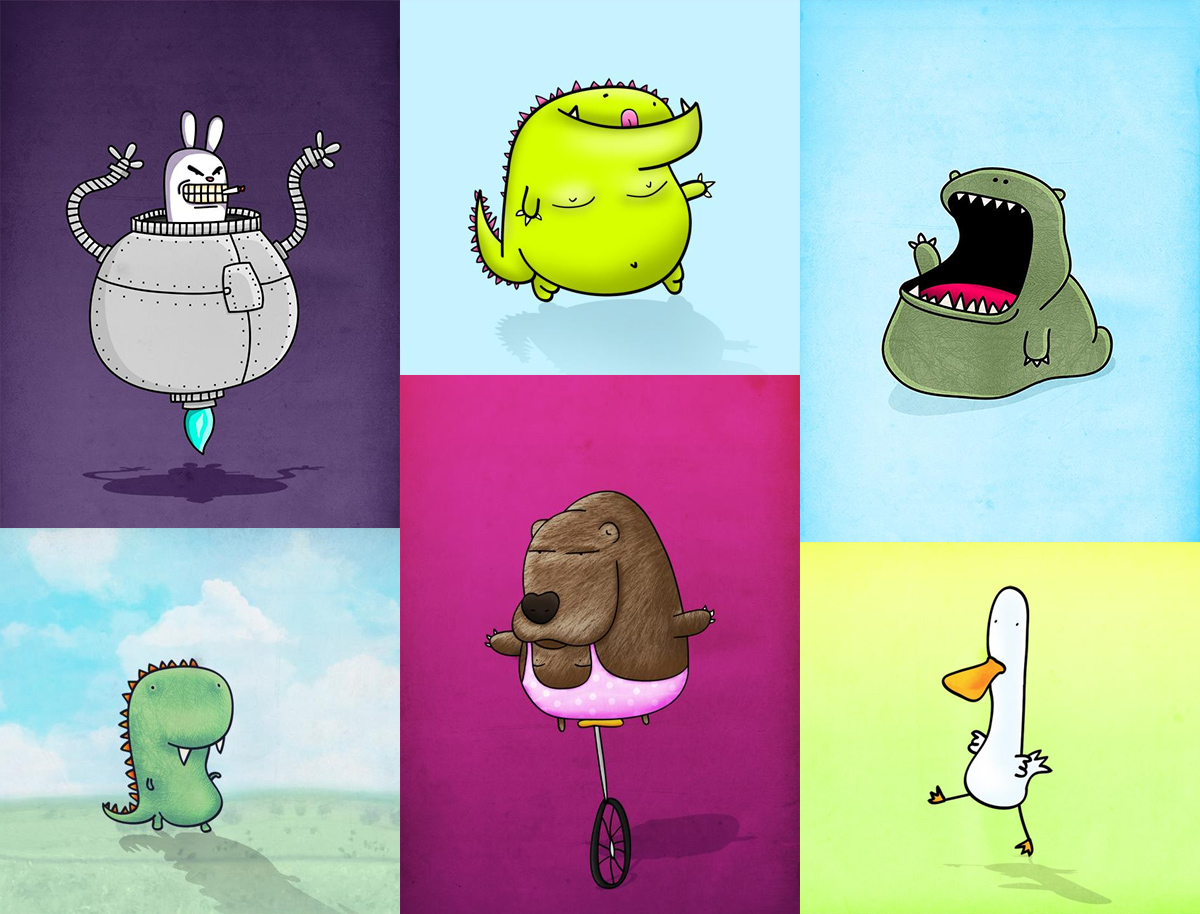 HEINEKEN SERENADE
A good old flash campaign that I did a lot of design for.

Building on the 'Open Your World' campaign, Wieden+Kennedy Amsterdam extends the party introduced in the spots "The Entrance" and "The Date" into social media, with The Serenade Facebook app produced by Perfect Fools. The Serenade app lets you ask a Facebook friend out on a date via a personalized serenade performed by Bollywood-style crooner Paul "Kiss" Kissaun, who you might remember from "The Date". Answer a few questions about why you want to go on a date and what you plan to do, and your answers form the lyrics of your serenade (a total of 640 combinations are possible). You post the serenade on your desired date's wall, who can choose to answer 'yes' or 'no' with a short Shanghai c.1930s-flavoured film clip.